Minimally invasive arthroscopy
allowing an accurate assessment
of cartilage in the joint
MIR-ATR Probe
Miniaturized MIR-ATR probe with an innovative hook-like design for cartilage assessment
The technology will improve the surgeons work in that sense that quantification of cartilage quality can be performed with this technique that will lead to:
better assessment of prognosis

better distinction of sound cartilage from degenerated cartilage

this will help determine the border of cartilage that have to be debrided during cartilage repair surgeries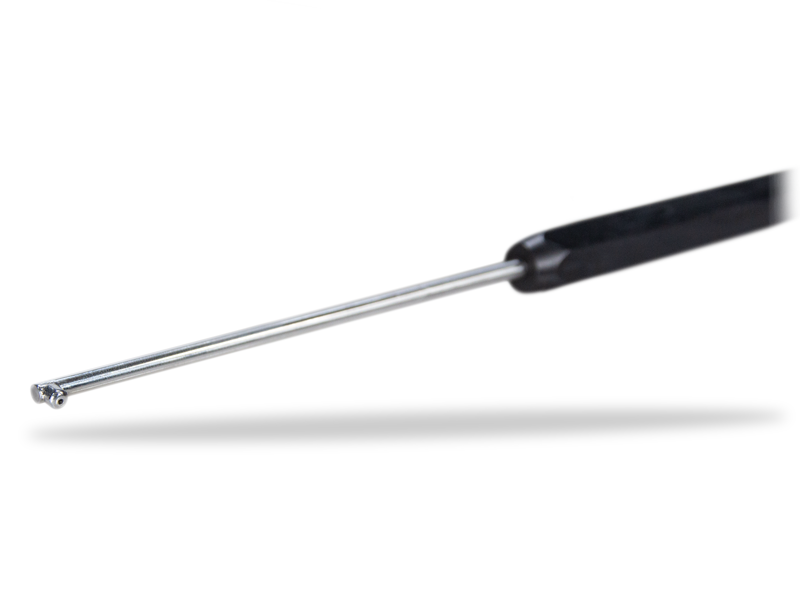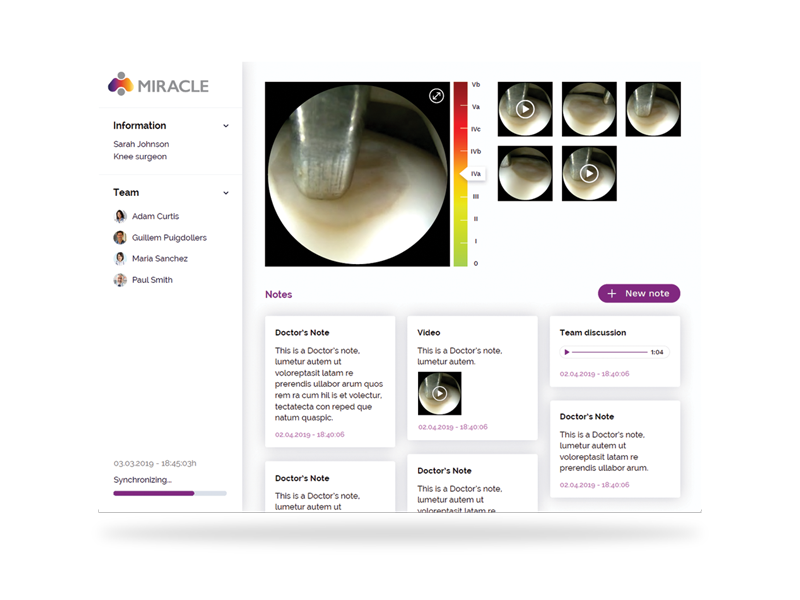 User interface
Clear and simple user interface that ensures real-time interpretation of cartilage quality
The design of the MIRACLE software has been done with the ergonomy in mind since the beginning. A constant interaction with the medical team helped personalizing the workspace to respond to the specific needs of the surgeons both inside and outside the surgery theatre. The software hosts a desktop and a local-cloud self-contained architecture to allow the medical team to use the software directly from the Main Unit or via a remote connection.
The local-cloud architecture (accessible through a normal browser) implements a log-in based user identification
Different privileges can be assigned to the user or to a group of users to manage the data they can access, modify, or generate

The aspect of the cloud is adaptative, so the browser window can be extended or reduced without cutting away information

This helps the surgeon to visualize, export and import data
The desktop mode is a way of using the MIRACLE device when it is offline or in stand-alone modality (emergency situations, field hospitals, or simply when the device cannot be connected to the local area)
It allows the surgeon to insert the relevant data of the patient if needed, and perform the operation exporting the date on a removable device

The data can be modified in a later moment if needed, or integrated with already existing data
Surgery mode: this modality is used during the surgery
It consists of only one dashboard that shows the doctor the measure that has been performed providing a numerical evaluation associated to an immediate visual colored scale

Each measure is recorded in a video that is stored in the local memory and than automatically synchronized with the local-cloud

The hospital can extend the synchronization to the local ERP or data storage system
The surgeon and the team members (if allowed) can show the videos recorded directly during the surgery, adding comments that can be useful for further evaluations
All the video recordings can be played, commented, etc even after the operation, adding relevant info about the patient and his/her post-operative course